Water Purification System Information Integration
Monitoring your water purification systems and water usage is important to running your operations, ensuring optimal productivity, meeting environmental guidelines, and reducing downtime. But how do you monitor multiple other systems in addition to your production systems without running all over the plant or hiring a half dozen of people to watch monitors?
At All Water Systems, we suggest using a water system information integration program that can bring all of your water treatment and purification data into one point of reference. We design systems that can monitor and capture critical data points from various systems and integrate them for use in your existing systems or custom design a complete solution.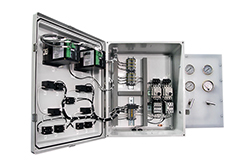 The result, all of your critical monitoring information is collected, compiled, and integrated into an easy to use and understand platform; meaning you can monitor your water systems without additional personnel.
For more information about water system information and data integration, call us at (412) 824-6560, or click here to contact us.